Introduction
Description:
The OC-9200 Dust monitoring system used to detect the Particulate matter PM2.5 and PM10, TSP, Noise,
Meteorological parameters (including of Temperature, Humidity, Wind speed, Wind direction, Barometric
pressure ). Combined with industrial laser sensor technology and unique heating dehumidification compensation
device, the influence of ambient temperature and humidity on the detection results of particulate matter is reduced.
Featu
r
es:
Modular design, easy to set different monitoring factors on demands, suitable for large scale grid distribution points;
Calibration is carried out on site according to the traceable reference standards;
No need to change the sampling cutter, it can detect the PM10, PM2.5, TSP at the same time;
The circuit adopts industrial embedded processor, suitable for the harsh outdoor environment and the working temperature is -40~70 degree;
The particulate sampling is controlled by dynamic heating and dehumidification to remove the influence of water mist on measurement data;
Adopts long-life anti-jamming sampling power system, quiet and efficient; the sampling period is adjusted;
Adopts the industrial transmission module to ensure the stability and reliability of the data transmission;
The system with the two-channel communication to ensure the data continuity;
It can realize remote data transmission and read the system status information remotely; also can realize the remote control, modify instrument parameters remotely and diagnose faults;
(Optional) IP cameras with various parameters to record the video. Real-time data displaying and the update time is adjustable;
Large size LED to display the data. Various installation modes;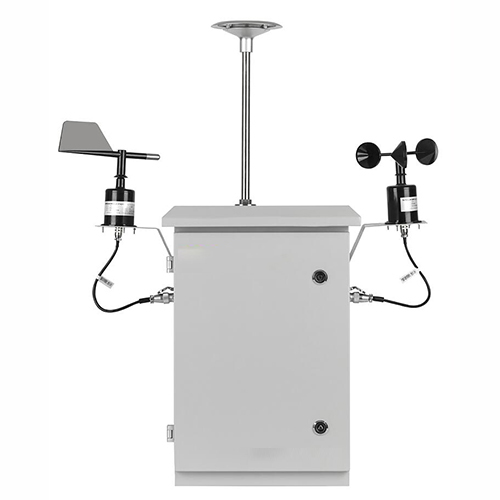 T
echnical
Parameter:
Items

Description

Specification

Particle Modules

Monitor method

Continuously, automatically and real-time

Working principle

Light scattering technique

Measurement data

PM2.5, PM10, TSP

Measuring range

0~10mg/m3

Response time

≤60s

Resolution

1ug/m3

Sampling flow

1.3L/min, precision: ±3%

Sampling time

Adjustable(Default is 5munites)

Dehumidification

With the automatic dehumidification function module

Fault alarm

Real-time display the fault alarm

Noise monitor

Measuring range: 30~130dB (A)

Sampling frequency: <1s

Dynamic analysis range: ≥100dB (A)

Frequency weighting: A, C,Z

Time weighting: F, S


Meteorological parameters

Temperature: Measuring range: -40℃~60℃, Precision: ±0.3℃ (20℃)

Humidity: Measuring range: 0~100%RH, Precision:

±2%(5%RH~95%RH, 25℃)

Wind direction: Measuring range: 0~360°, Precision: ±5°

Wind speed: Measuring range: 0~30m/s, Precision: ±0.3m/s

Barometric pressure: Measuring range: 30~110Kpa, Precision: ±2.5pa
System specification:
| | |
| --- | --- |
| Data efficient transmission rate | ≥95% |
| Remote control | Support for remote setting |
| Interface | RS485/RS232 port, Network port |
| Transmission network | Automatically and real-time upload data, optional 4G/ GPRS/WIFI |
| Box material | Q235 spray, Stainless box optional |
| Scaffold material | Q235 |
| Scaffold height | Standard height is 4.5m, Flange connection(1m fixed underground, 2*1.5m+1*0.5m) |
| Lightning arrester | Length 1m, Q235 Galvanized material |
| Working environment | Temperature: -30~70℃ Humidity: 10%RH~90%RH Pressure: 65~108Kpa |
| Protection grade | IP65 |
| Power supply | AC220V/50Hz/Solar power (optional) |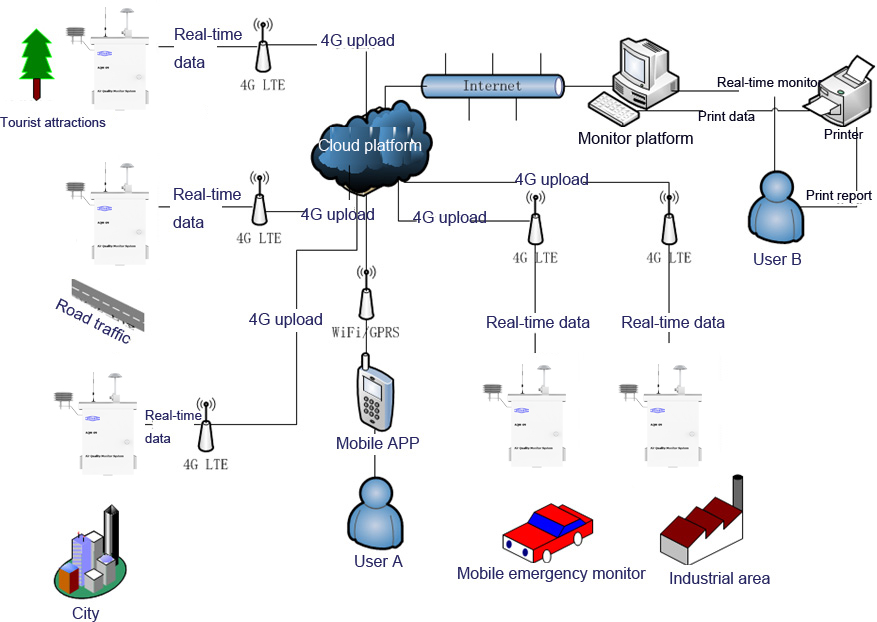 Application:

Pollution control in traffic environment; Road and tunnel pollution monitoring; Urban air quality monitoring;
Emission monitoring of particulate and pollution sources; Long-term air quality trends analysis;
Short-term atmospheric environmental impact assessment; Environmental monitoring in residential areas, schools, Hospitals;
Industrial area air quality monitoring: Chemical plant, Power plant, Landfill, Incineration station, Port, Sewage treatment plant, Storage
facilities, Underground facilities, etc.
Installed on mobile tools for monitoring;
Agricultural straying during, Forest fire alarm, Tourist attractions; Residential districts, Schools and Hospitals.
More Products