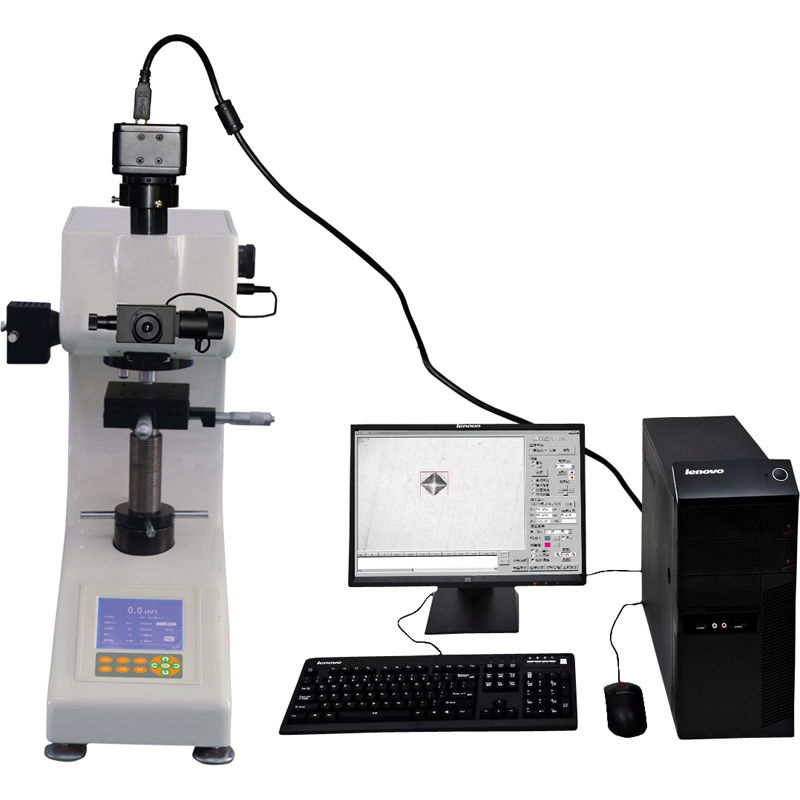 Introduction
HVS-1000 Computer Digital Micro Hardness tester equip with the micro hardness measuring system, it can continuously read indentation after continuous loading and can carry out successive experiments of the loading and reading indentation every time. With the CCD camera, video line or USB interface to observe and measure the indentation directly on the monitor and high measuring accuracy with the mouse. For the setting of test conditions, display results can be clearly and quickly operated and displayed. Through measuring software, computer can also be used for convenient operation, to achieve a single point measurement of random multipoint measurement and statistical measurement data, arbitrarily set the distance between two or more points measurements for the layer depth measurements, measured along the X or Y direction of the two statistical measurement data, according to the user input to determine the value of automatic calculation of hardened layer depth. Statistical calculus, conversion, display curve, to determine whether qualified. Measuring the length of parts can save the print graphics.
Features:
The optical system with the clear image, also could be as the usage of the microscope, the adjustable brightness is good for the worker eyes.
The LCD display the Hardness value, conversion hardness, testing method, testing force, duration time, test frequency, the worker can monitor the testing process clearly.
The shell made by the special foundry molding casting, with the stable structure, can work under the severe environment; with the high class automobile paint with high anti scratch ability.
Our company with the R& D team and we provide the service for the maintenance and upgrade.
HVS-1000 Digital Micro Hardness tester is operated by the manual turret.
Applications:
Iron, Steel, Nonferrous metal, Metal foil, Hard alloy, Sheet metal, Microstructure.
Carburizing, Nitriding, Decarburization layer, Surface Hardening layer, Electroplating, Coating.
Glass, Chip. Ceramic material.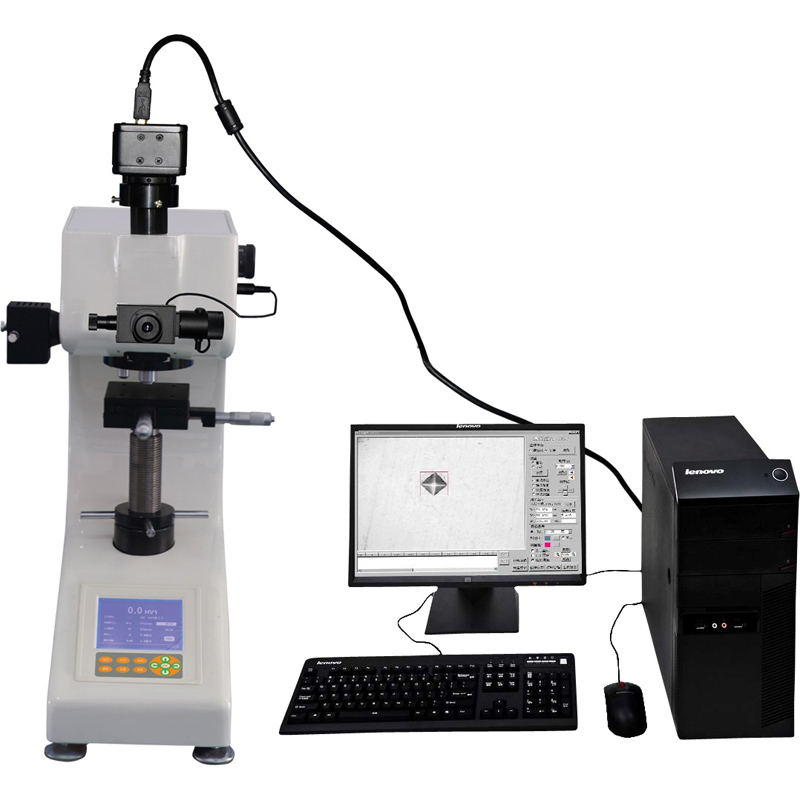 Technical parameter:
Item

Details

Hardness scale

HV0.01,HV0.025,HV0.05,HV0.1,HV0.2,HV0.3,HV0.5,HV1

Display

Retention time and Hardness value

Testing force(gf)

10gf (0.098N),25gf (0.245N),50gf (0.49N),100gf (0.98N ),

200gf (1.96N),300gf (2.94N),500gf (4.9N),1000gf (9.8N)

Loading Method

Automatically (load, keep, unload)

Turret

Manual turret

Duration time (s)

5~60

Testing force choose

External knob, the testing force display on the LCD screen automatically

Magnification of objective lens

10×,40×

Optical channel

Dual optical channel(Eyepiece and CCD camera channel)

Optical system

1、Total magnification (μm):100×(For Observation ), 400×(For Measurement);

2、Measuring range(μm): 200;

3、Resolution(μm): 0.01

Hardness measuring range

(5-3000)HV

X-Y Testing table

Dimension(mm):100×100 Max. travel(mm):25×25

Min data(mm):0.01

Max, height of the specimen (mm)

110

Max, width of the specimen (mm)

85

Data output

RS-232 port, optional built-in printer

Power

AC220V/50HZ

Weight(kg)

35

Dimension

(540×200×530)mm
Standard accessories:
| | |
| --- | --- |
| Micro Vickers Indenter 1pc | Flat Clamp 1pc |
| Objectives 40x 1pc | Filament Clamp 1pc |
| Objectives 10x 1pc | Water level 1pc |
| Accessories Box 1pc | Screw driver 2pcs |
| Weights/Gradienter 6pc | Level Screw 4pcs |
| X-Y testing table 1pc | Power Cable 1pc |
| Thin-piece Clamp 1pc | Micro eyepiece 10x 1pc |
| Micro Vickers Hardness block 2pcs | Fuse (1A) 2pcs |
| Manual 1pc | Anti-dust Cover 1pc |
Our company provides the different type Hardness tester, including of the Rockwell Hardness tester, Leeb Hardness tester, Barcol Hardness tester, Webster Hardness tester, Micro Hardness tester.
More Products