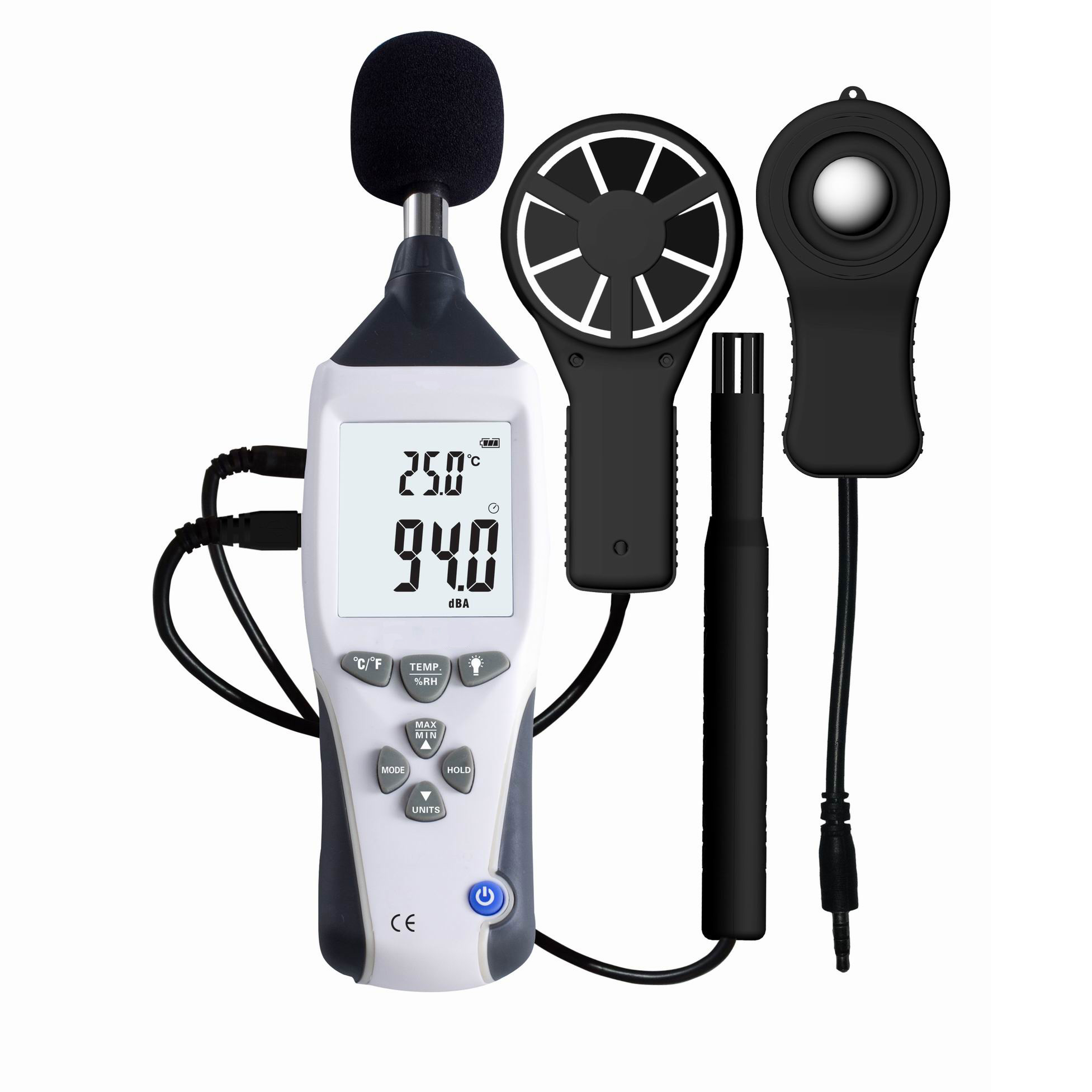 Introduction
The 5 in 1 digital Multifunctional Environment Meter is designed to combine the functions of Sound Level Meter, Light Meter, Anemometer, Humidity Meter and Temperature Meter. It is an ideal Multifunctional Environment Meter with different practical applications for professional and home use, like monitoring and collecting data of environment temperature and humidity, measuring noise in factories, schools, offices, airports, home, etc.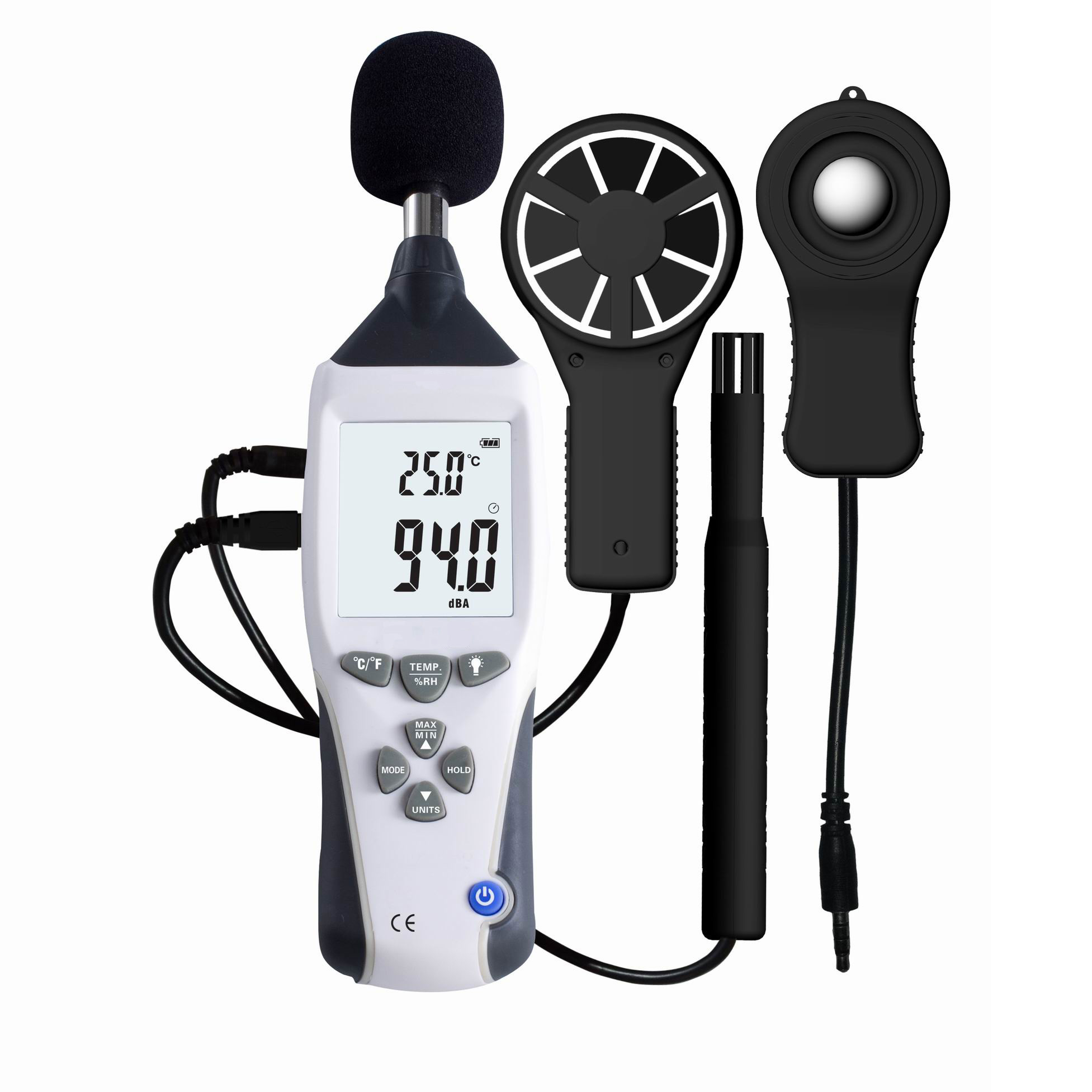 1:Auto range for sound with A frequency weightings
2:cosine corrected silicon diode sensor for lux levels
3:70mm vane for airflow
4:semiconductor sensors in the probe for humidity and ambient temperature measurements
5:c/f temperature measurements
6:55mm LCD display with backlight and function indicators
7:data hold function freezes displayed value
8:Max hold display highest measured valued
9:Max memory display highest measured value since power on
10:auto power off
11:low battery indication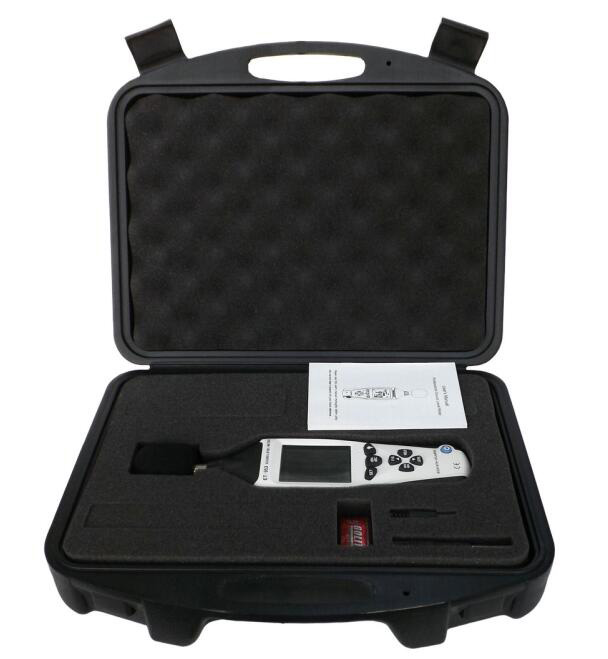 Sound Level

Applied standard

IEC61672-1 CLASS2

Accuracy

±2.0dB

Display

4digts

Resolution

0.1dB

Frequency response

31.5Hz~8kHz

Measurement range

Auto:35dB~130dB

Frequency weighting

dBA

Microphone

1/2 inch Electric condenser microphone

Light

Measuring range

0 Lux~200K Lux, 0Fc~20KFc

Spectral response

CIE photopic(CIE human eye response curve)

Spectral accuracy

CIE Vλfunction f1'≦6%

Cosine response

f2'≦2%

Accuracy

±4% rdg±0.5%f.s.(<10,000Lux)

±5% rdg±10dgts.(>10,000Lux)

Photo detector

One silicon photo diode with filter

Air velocity

Air velocity range

0.5m/s~30.0m/s

Air velocity accuracy

±(3%±0.3d)

Measurement units

m/s, km/h, ft/min, knots, Mph,

Temperature

Measurement range

-40~70℃(-40~158℉)

Accuracy

±2.0℃,±3.6℉

Measurement units

℃/℉

Resolution

0.1

Humidity

Measurement range

10~95%RH

Accuracy

±5RH%

Resolution

0.1

Data update

1 time/sec

Maximum value

MAX

Minimum value

MIN

Data Hold

HOLD

Auto power off

Automatically power off after approx. 15 minutes of inactivity

Power supply

one 9V battery with type of 006P、

NEDA1604 or IEC6F22

Battery life

About 30 hours

Operating condition

-20℃~60℃,10%RH~90%RH

Storage condition

-40℃~60℃,10%RH~75%RH

Dimensions

252 (L) *66 (W) *33(H) mm

Weight

568g
If any more questions about the OC-965 environment tester, welcome to contact with us.
More Products